"
I just found out my teenage daughter is pregnant!
"
A Pee Stick and an Asian Raccoon is the second episode of Season 1 of Mom.
Synopsis
Christy and Bonnie put their differences aside for Violet, to deal with a family crisis; Violet could be pregnant.
Title Meaning
(A Pee Stick) Violet takes a pregnancy test
(Asian Raccoon) Bonnie's doctor has small hands like a raccoon.
Cast and Characters
(*Characters/Cast Members crossed out are absent*)
*Main Cast/Characters
*Guest Cast/Characters
Shane Blades as William
George Paez as Ramone
Kristen O'Meara as Dolores
Jill Lover as Carla
Kotaro Watanabe as Dr. Nakamura
Mark Berry as Douglas
Lyn Alicia Henderson as Susan
Quotes
"

[Bonnie, Violet and Christy are all in the bathroom waiting on the results for Violets' pregnancy test.]
Bonnie: I know it's so exciting!
Violet: I'm glad you're excited. I'm scared to death.
Bonnie: Hey don't you worry, I'm gonna be here for you whenever you need me, 24/7.
Violet: Thanks, Bonnie.
[Christy feels awkward]
Christy: I'm gonna be here for you too...
Violet: That's your job! Mom.

"
"

Christy: What are we gonna do about Violet? ... I don't want her to wind up like us.
Bonnie: What's the matter with us?!
Christy: The fact that you don't know speaks volumes!

"
"

[After overhearing Violet take over for Christy with Roscoe]
Violet: Mom? What's wrong?
Christy: You're a better Mother than I am!
[Christy hugs Violet]
Violet: I, know.

"
"

Luke: Oh, I think I know what you wanted to tell me.
Violet: You do?
Luke: Yeah, [looks at Christy] you're having a baby.
Christy: So close.
Violet: Luke, I'm having a baby
Luke: So you're both pregnant?
Violet: No, just me.
Luke: Oh, that's, so cool! [looks at Christy] there's still time for you, not much, but, keep at it.
Violet: So you're not gonna get scared and run off?
Luke: Why would I run off? I love you and I'm gonna love your baby.
Violet: It's our baby.
Luke: WHAT? [Christy gives him a dumb look] .... Even better!

"
"

[Baxter just brought Roscoe home
Bonnie: Why do you have glitter on your shirt?
Roscoe: Dad took me to his girlfriends apartment. I learned how to swing on a poll.
[Everyone gives Baxter a look]
Baxter: He's a natural!
Christy: I thought your girlfriend worked at Bed, Bath and Beyond?
Baxter: Doesn't mean she can't dream.
Christy: [to Roscoe] Okay, go wash the sad lady off your hands.
Christy: Thanks for taking him this afternoon.
Baxter: Hey! I'm his Dad, if I can't spend two hours a week with him, who can?
Christy: [looks at Violet] It's not always great knowing who the father is...
[Roscoe comes out of the bathroom with Violets' pregnancy test stick in his mouth and the box in his hands.]
Baxter: WHY is my Son pregnant?!

"
Videos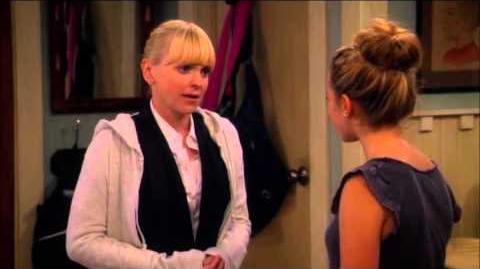 Ad blocker interference detected!
Wikia is a free-to-use site that makes money from advertising. We have a modified experience for viewers using ad blockers

Wikia is not accessible if you've made further modifications. Remove the custom ad blocker rule(s) and the page will load as expected.